Randone's is on Euro Rock Press Magazine with a full interview.
Here you can find the interview translated in English
Does RANDONE still exit or is it still active? Since ULTREIA , has there been any release of new album/song?
This is a question I find hard to answer to. For various reasons we are not a band which performs live or records in studio any more; first of all because I moved to the north of Italy, more precisely to Imola, but more importantly because I had the fantastic opportunity of becoming a father, something I did not foresee and which, believe me, radically changes your time management habits. Anyway, even before moving away and becoming a dad, the other members of the band started dedicating more time to their private lives and their full time job, I know I am saying something sad but it is the reality for many bands that start making music and then realise that music does not bring food onto your table; luckily technology helped solving issues related to distance and time, I have quite a good experience working with sequencer and virtual instruments so, if at the beginning I was forced to play with musicians, now the whole band is inside my computer which allows me to build the entire scaffolding of the album myself and to only ask for the musician's support towards the end phase of the project. I am sure that those times, when albums were released yearly and live concert in clubs won't ever come back, but the most important thing is never to stop making music in order for your creativity to never run dry.
Can we understand that this band is your solo project (and you invite musicians for each recording/gig) in the first place? Or is it a permanent band?
Randone is a band that had the privilege to have many important guests like Beppe Crovella from "Arti e Mestieri", Carmelo Corrado Caruso (a baritone famous on international level), Giuseppe Scaravilli from "Malibran", Lautaro Acosta, Daniel Martines and several local artists such as the saxophonist Graziano Raniolo, the singer Maria Modica and many more, but the core of the band always remained the same: I as main singer, acoustic guitar and keyboards, the drummer Riccardo Cascone, the guitarist Marco Crispi and Livio Rabito at the bass guitar. Even if I were the writer of the lyrics and the main composer for the musics the involvement of the band and more specifically of those core people, made Randone's style the one you know. If I have to think of a band that functioned in the same way, Pink Floyd is the first name that pops into my head, with their album "The Wall" where Roger Water came up with the main idea for the whole album but only the emotions and artistic expertise of the other member of the band, made the album the masterpiece it is.
RANDONE's past works, NUVOLE DI IERI, …RICORDO, HYBLA ACT 1, LINEA DI CONFINE and ULTREIA will be re-released in Japan. Please recommend an album to novices who have never known your music to pick up.
Wow, this is the hardest question so far, because is as if you were to ask a parent which one is their favourite child. I am aware that, based on which album a first listener approaches us, it changes their impression they have of our band and this depends only on the music's taste of those listeners. Randone's albums are very different between each others. "Hybla" is a very complex concept, full of ideas that chase at each others, a type of project that would be appreciated by those in love with musical atmosphere typical of Emerson Lake and Palmer; "Linea di Confine" is, instead, an album for those who like progressive rock in line with "Le Orme", probably the album that was most inspired by a personal life experience of mine. "Ricordo", the only album not be a concept, is instead an overlap between my songwriter' soul and my progressive soul; it starts with a long suite written for the Finnish project "Spaghetti Epic" from Colossus, and then leaves ground to songs I wrote at the beginning of my career. If the listener's taste are more oriented towards the traditional progressive, "Nuvole di ieri", "Ricordo" and "Hybla" are they way to go; "Linea di confine" and "Ultreia" are albums I consider a change of direction both in terms of inspiration and sounds, my personal vision on how progressive music should be played nowadays.
As this is the first interview with you for our magazine, please tell us about your musical education/background, when you turned professional, major influences/favorite artists, bands or artists whom you consider as goals in terms of songwriting and performance and albums you have been influenced.
As everybody else, I started in a group haphazardly mashed together to perform live in clubs. We played original songs from the very beginning. When I joined the "Grey Owl" (this was the name of the band), they already had an album almost ready, I contributed with a few more song Iof my own and then we launched our first cd: "La parete di ghiaccio". In the "Grey Owl" I met he who will become the drummer of "Randone", Riccardo Cascone. I then came out with my solo album "Morte di un amore", where I utilised some of the song I wrote for the "Grey Owl" but that we did not record back then (like the title track and the song "La giostra"). The desire of been part of a band was still strong in me and with Riccardo we created "Lorien", which gave me the chance to start working with Marco Crispi. The experience came to an end with a demo in the Italian-rock style with songs I never re utilised, differently from what I did from my experience with the "Grey Owl": it was a period when I put some distance between me and what I really liked.
Around that time I received a call from Beppe Crovella which gave me the opportunity to make of music my full time job; this until the progressive genre definitely made its course and all the neo-prog band had to come to term with the reality of the fact that it was necessary to find another job, I know it's sad, but it is the reality for the majority of neo-prog Italian band, which have reduced music to a mere side hassle.
Talking about artists which inspired me, probably "Banco del mutuo soccorso" is the band that more influenced my prog style; thanks to "le Orme" instead, my prog moved closer to a style where lyrics have more relevance and weight than a more exhibition oriented styles where lyrics and singing have more a marginal relevance. The artist that has the most influenced my latest products is "Franco Battiato", an italian artist I discovered way too late in my career but with which style I felt a deep connection due to an extraordinary spiritual affinity. There has been many more that have strongly influenced my writing style, Pink Floyd and Genesis, to name just two; from this second group, Peter Gabriel has been a major impact and inspiration due to his ability to write lyrics always in line with times and his unique live exhibitions, from the time when he was part of the "Genesis". I could then make a long list of names more or less known that left within me part of their world because, before been a music creator, I have always been passionate about music and a passionate listener.
With your first solo album, MORTE DI UN AMORE and early band albums, the contents of interactive tracks were highly impressive, and if I remember correctly, they included a vast collection of documents, tourist guides about Ragusa on Sicily and even greetings from the mayor. (Sorry, I cannot play them back due to the limitation of my current PC.) What were they? Were you engaged in public jobs of the municipality? Or did you have any official title or position?
Nothing of the sort, simply I wanted to give more visibility to my country and I though that involving the mayor I would have obtained some support for my musical's projects. As per expected, promises were not fulfilled and I provided free advertisement to a politician. I should have been less naïve.
I've found your homage to famous tracks also interesting such as the bonus track for …RICORDO, "Il Buono" (from Il BUONO, IL BRUTTO, IL CATTIVO) and PINK FLOYD's "Echoes" in the acoustic live performance. Have you done this kind of homage recordings/performances often?
I love making quotes and I spread several throughout all my disks; you will find a quote from "Nightmare before Christmas" by Danny Elfman in my album "Hybla"; in "Dovresti non scordare" there is a quote by "Nobody Home" from Pink Floyd and.. well, you have to find the others yourselves.
Are graphic design and web production still your main jobs? Your name have been found in the artworks of MALIBRAN and ARTI & MESTIERI. Are you still engaged in artworks of other artists?
Sadly, for pure practical reasons, I never manage to make music my main profession and if in the past I was able to dedicate 50% of my time to music, nowadays I feel lucky if I manage to dedicate music a few days a month, and this because I have to do my most important job of all, be there for my son. I have always been working in the field of web design and graphic, during the period I was closer with Beppe Crovella, I designed many covers for Eletromantic. Other than the one you already mentioned I made covers for "Green Wall", "Beggars Farm", "Cantina sociale", "Il Castello di Atlante" and many more. I have as well worked on publications, one of which was a guide to the Pink Floyd album "The Wall".
After releasing a solo album, you participated in KALEVALA, a COLOSSUS PROJECT. You provided a track as RANDONE & TEMPORE. Is there any other track with this formation? After releasing ITALIAN PROGRESSIVE ROCK "ENCYCLOPEDIA" VOLUME 1, TEMPORE seemed to disappear from the scene. Were you a member of this band?
I have never been a permanent member of "Tempore"; when the proposal from Marco Bernard arrived, to translate into music a part of the Finnish epic poems, Beppe thought of me for whom should have wrote the song where "Tempore" would have composed the music for it; this is how the collaboration came to be. It was a beautiful experience, because I had the chance to play with very skilled musicians which condensed, in what was little more than a demo, a huge amount of prog energy.
I believe it was that experience that made me reach again for the musicians I played with, to create "Randone".
A very unique Russian label, Mals, re-released your solo album, MORTE DI UN AMORE. Its artwork was completely changed, which is are. Why?
At the time, I became friend with a painter from Ragusa, Franco Cilia, his are the creations you see in "Nuvole di ieri", "Ricordo" and "Hybla". When Vitaly Menshikov di Progressor (who sadly came to pass 5 years go), told me he would have liked to produce the whole Randone's discography with "Mals", including my first solo project, I though that "Morte di un amore" was in need of a new cover, which was then realised by Franco Cilia.
Assuming that RANDONE still exists or that it would be summoned someday, what do you want to do? Please tell us about your future plans.
There is an album, a very long suite I have been working on for a long time. I started composing it immediately after "Nuvolve di ieri" but it was such and ambitious project that I had to put it to the side to give space to project that were coming in to beeing more freely. This is the reason why, I believe, the new album from Randone, named "Alle porte del paradiso" summarise at best my experience as prog's author and is, so far, my most inspired project.
Don't you worry, you won't have to way for much longer before its release, the release date might be around the corner.
Have you every come to Japan for music or design jobs or privately?
I have been in your amazing country with "Castello di Atlante", opening their tour on 5 different occasions. It was an amazing experience even if I did it by myself, bringing acoustic versions of some of my ballads. I remember with deep affection the "Baraka" and their welcome, I felt touched by their kindness; in relation to this, stuck to my memory is an episode which happened in Tokyo whilst the band was performing a sound check in the club we were going to play that night. At that time I used to smoke cigarette and I entered a shop to buy some, my credit card got rejected and I was about to make my way back to the club when a stranger with red dyed hair, touched his chest to indicate me he would have taken care of that. He paid the cigarettes and left. For him I was nothing but a complete stranger, but I believe he felt the need to help me because clearly I wasn't from there: an example of kindness us Italian have long forgotten. Another person was our manager, Mr Masuda, which took care of almost everything; he loved order and punctuality and if he were not such a kind hearted person, he would have sliced us all up with his samurai sword.
Last but not the least, please give your devoted fans in Japan a message.
I can only say I feel extremely honoured to have had the chance of this interview, another example of how much your country gives relevance to the job musicians do. I have always loved Japanese traditions and I am a great fan of Hayao Miyazaki's animated poetry. I am planning on coming back to Japan with my family to pay a visit to the small villages surrounding the Mount Fuji of which Baraka highly talked of and maybe to go back to the "OHH LA LA" in Kyoto to have a beer while listening to some good live music.
Thank you very much.
Thanks to you for this amazing opportunity, I hop to talk to you soon.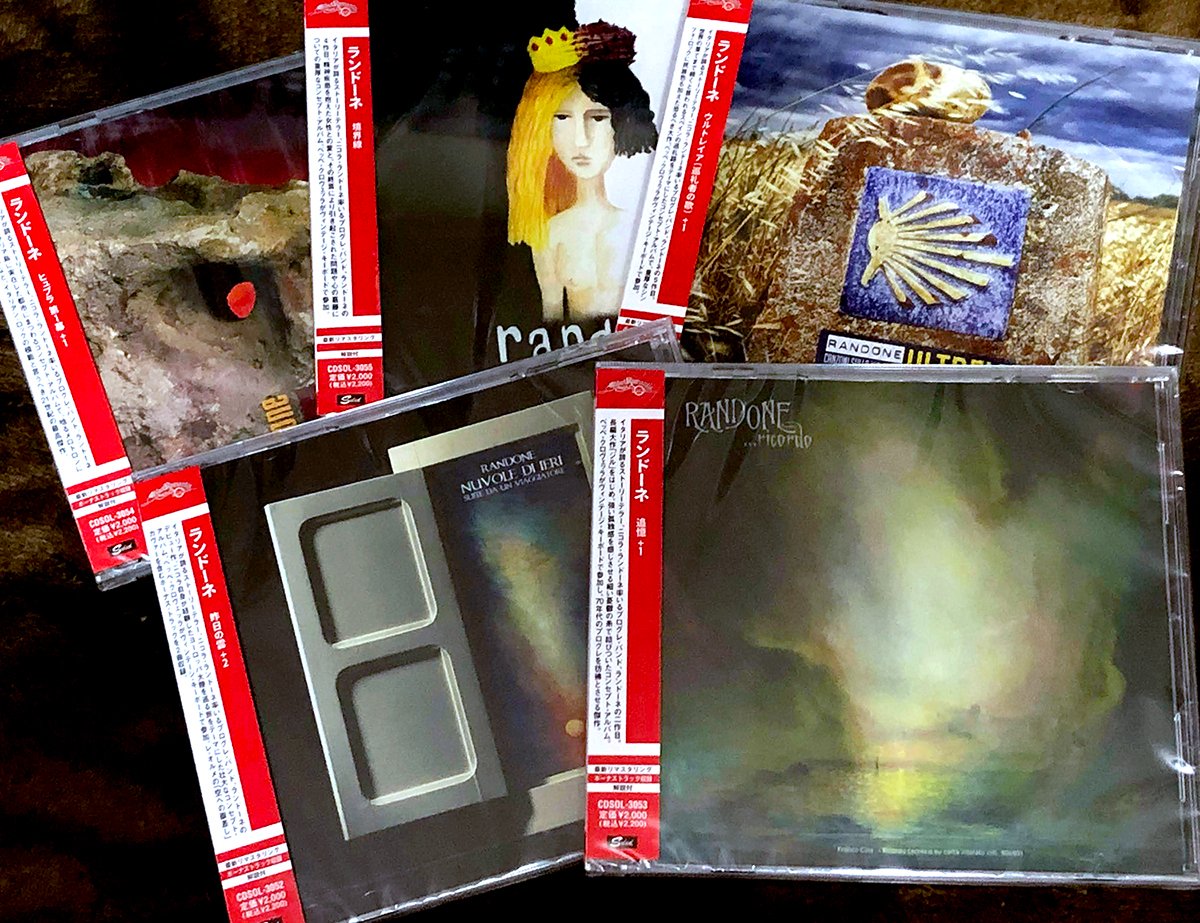 Below you can read the original interview (in Japanese Language)
---